Who is "The Bannock Factory"…
"The Bannock Factory" is a product line that is produced by Faraci Foods in Winnipeg, Manitoba, Canada.
The concept behind Faraci Foods is that we wanted to create authentic ethnic comfort foods that are convenient for our customers to enjoy…
"Tradition Made Simple".
"The Bannock Factory" line currently consists of mini "Bannock in a Box", which is available in traditional plain.
"The Bannock Factory" line has replicated the traditional taste of Bannock and have developed a convenient way for customers to truly enjoy this delicious comfort food.
"The Bannock Factory's "Bannock in a Box" is available to you as a frozen food product, 6 pieces per box, as a pre-baked, mini piece of Bannock. All you have to do is microwave for approximately 40 seconds (may also be heated in an oven) to enjoy a nice hot piece of delicious Bannock. The product is also available in institutional boxes of 72 pieces, ideal for restaurants, caterers etc.
"Bannock in a Box" was a hit at the Métis Conference & Trade Show, where Manitoba Métis President David Chartrand tasted this Bannock, and was amazed how great it tasted.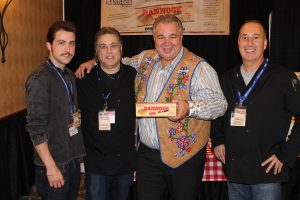 (Anthony Faraci, Phil Faraci, Manitoba Metis Federation President David Chartrand, Ted Bozyk)
"The Bannock Factory" food trailer, operated by Faraci Foods, was also a huge hit in Winnipeg and Manitoba serving up traditional Bannock, Bannock Burgers, Bannock Dogs and Bannock Sandwiches!
What is Bannock?
Bannock is a simple bread, leavened with baking powder rather than yeast and became a staple food of the Native & Métis cultures. Bannock is often associated throughout North America as a Native American cuisine, however Bannock is an Old English word of Celtic origin… It's historic use was primarily used in Scotland, Ireland & England. Bannock was brought over to Canada by the settlers.
Where to buy "Bannock in a Box"?
We are pleased to announce that "Bannock in a Box" by Faraci Foods
is now available at participating locations from Jasper, Alberta to Thunder Bay, Ontario.
Sobeys
Safeway
Foodfare
Family Foods
IGA's
Gimli Fish Market
Red River Co-op
Harvest Bakery & Deli
DeLucas – Local & Fresh – TGP's
Walia's Gas & Carwash
"Pre-baked and ready to eat, a convenient way to enjoy a traditional treat"
Conveniently located in the freezer section.